As the New Year unfolds you may feel some curiosity stirring within:
What will 2023 bring?
What shifts can I make to ensure my best future self?
Am I living my purpose?
Despite the challenges doled out in the last 18+ months, there have also been opportunities for learning and healing, like getting clear that there's only so much you can control, or that setting boundaries or having the desire to strengthen that skill can benefit many besides you. Perhaps you learned to flow with unexpected pivots to accommodate your career or family with more humor—which gave way to grace.

With invisible forces adjusting the tides, remember that ultimately you are the one steering the ship. Your emotional, mental, physical, and spiritual responses to the external challenges navigated daily, weekly, monthly—all set the tone for your journey ahead.

So how can you remain clear when making choices? How can you feel confident, supported, and understood?

My favorite tool of discernment is Tarot. When I need a clear read on the energy of what is and what's coming Tarot is always there for me, guiding me to the highest outcome.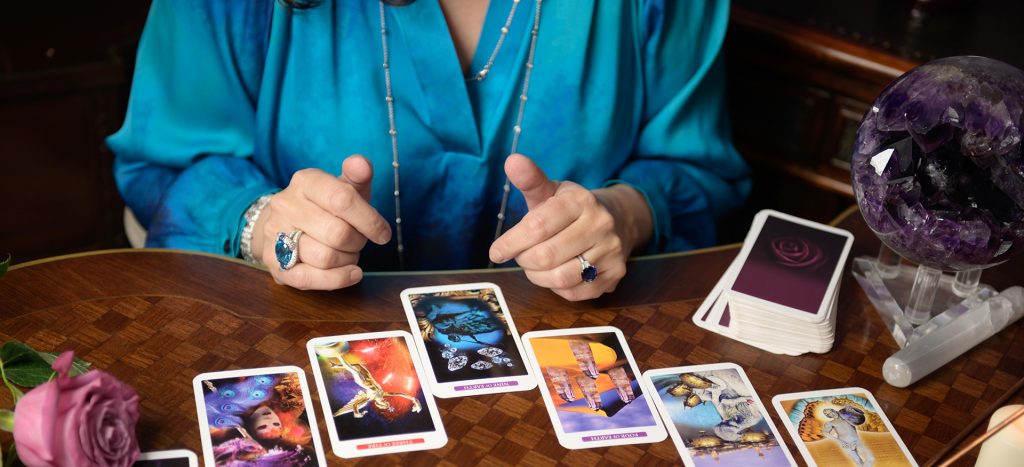 I'm not going to lie, there are times when I'm not 100% certain on the exact 'what', but at least I know the energy of it and the impact to watch for. And I tell you what… when I'm in the dark, any certainty is incredibly valuable. I'm forever grateful for this trusted companion and constant reminder of the magic, beauty, and blessings of Earth School. Because when I'm in the darkness, it's too easy to forget.

Because the need to discern for yourself is greater than ever, I'll be offering Learning Tarot: Awakening the Magic of Your Own Inner Guidance this spring at the world-renowned healing center Esalen, located in Big Sur, California. Your questions, doubts, goals, and visions can be answered, informed, and affirmed through Tarot—one of the clearest, most accessible ways to amplify your intuition.

In my class, you will learn how to read Tarot for yourself (and others if you so wish). You will have the support to learn the meaning of the tarot and to develop your own connection with the cards while learning how to trust your intuition. You will learn to see and allow the deck to reveal a path of what you need to do, what you need to release, and what lies ahead. Tarot is not only my absolute favorite tool of discernment, it is also my favorite class to teach. The joy and clarity it ushers in uplifts, inspires, and heals. It is an extraordinary experience that I look forward to sharing with you.

I hope to see you in class! To register or simply find out more, click here.

Here's to welcoming the tides of change, the confidence to make empowering decisions, and the love required to live your life authentically—regardless of what the world brings.