The Full Moon in Sagittarius on June 5th, 2020 is asking you to evaluate what's working for you, what's paying off, and what is worth your energy going forward?
When the moon is at its maximum capacity—you can feel that way too! You may find yourself tapped out in every way—readjusting your philosophy of life, how you value freedom, or what's your own belief about truth and justice. All of this is Sagittarius energy at its finest, and the timing of this moon's occurrence during such turbulent times here in Earth School is no coincidence. That's why it's essential you take time to reflect and release that which no longer serves you so that you can re-emerge from this time free of constraining and limiting belief systems, thoughts, actions, habits, and situations that suppress the true essence of your Highest Self. 
Everything feels up for grabs right now—but you don't have to be. Work in harmony with the cosmic energy around you and create a supercharged welcome mat for your renewed self. That old stuff wasn't working anyhow, let it all fall away.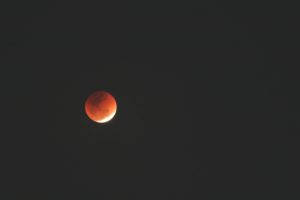 Additionally, we have a partial lunar eclipse—a time of reflection and reassessment. Eclipses mark time, providing a snapshot of where you are right now and how that is aligned with cosmic energy. This is an opportune time to journal, asking yourself three simple but profound questions: 
What do I need to release? 
Where do I want to go from here? 
How will I renew myself? 
And as if this wasn't enough, we still have four planets in retrograde. Retrogrades are also times when we must review where we are going and which direction we are headed toward. It's a time to work toward building a future that works for you, and the collective as a whole. We are always merging and engaging energetically with one another, and now is the time to put great thought into your place in this cosmic swirl.
As you grow and expand during these times of reflection, discomfort, and change, allow this full moon, lunar eclipse, and retrogrades to support the highest possible version of You.